MFP
Published July 5, 2018
Democrat Jon Tester should be vulnerable– Montana went for Trump 56-36— but MT is a rare case where the stupidity of the erectorate actually hurts the GOP.
You may recall that earlier this year, Tester released a deceptive ad intended to trick racists into supporting him. The ad featured 13 (now 16) bills that Tester introduced or backed that Trump signed into law.
This was in a dozen newspapers on Thursday: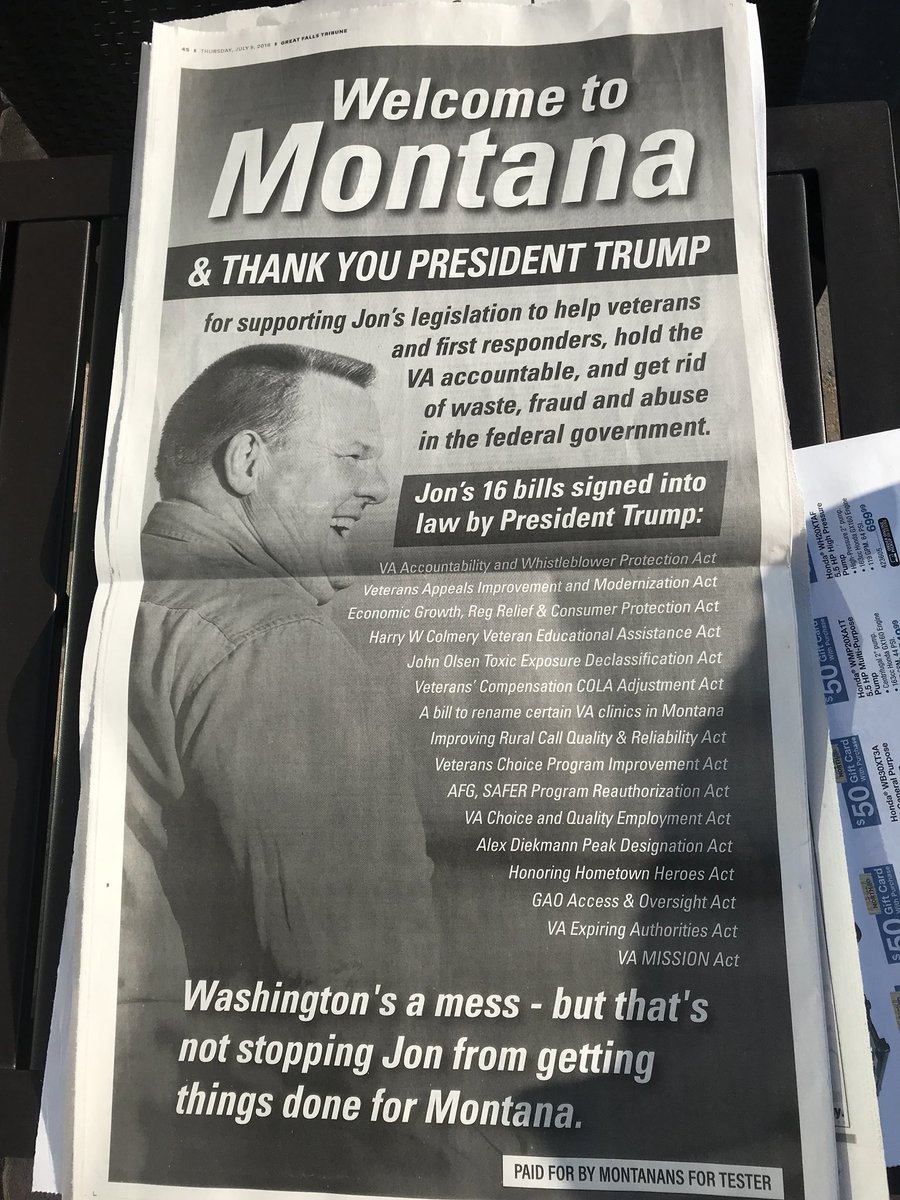 At the same time that Tester tries to confuse Trump's base, he's openly making assurances to liberal interest groups.



Planned Parenthood

We are proud to stand behind @jontester, who has never been shy about supporting women's access to health care or standing up for the Montana women who visit Planned Parenthood every year. #mtpol #mtsen pic.twitter.com/bqtH9A9miq

— Planned Parenthood Action (@PPact) June 29, 2018

Montana women deserve equal rights, and I'll stand up to anyone who wants to put government between a woman and her doctor. I'm proud to stand with @PPact & their mission to protect access to basic health care services and rights for Montana women. #mtpol #mtsen pic.twitter.com/CjQ8I6yrO6

— Jon Tester (@jontester) June 29, 2018

Unions

Unions have championed the rights of Montana's workers since day one. I'm honored to have the endorsement of the @MTaflcio, which represents more than 50,000 Montana workers. I will continue to fight alongside them on behalf of Montana families. #mtpol #mtsen pic.twitter.com/ha7KXJyH2b

— Jon Tester (@jontester) June 27, 2018

Firefighters regularly put their lives on the line for our safety. I'm honored to be endorsed by the Montana State Council of Professional Fire Fighters & I will never stop fighting to make sure Montana's firefighters get what they need to keep Big Sky Country safe. #mtpol #mtsen pic.twitter.com/XRzmPD8LLm

— Jon Tester (@jontester) June 29, 2018



So far, Tester's strategery is a resounding success. In the latest poll, Tester is +8 and over 50% (the threshold at which incumbents are generally considered safe-ish).
| | Tester | Rosendale |
| --- | --- | --- |
| Gravis | 52 | 44 |
The numbers on erection night should be closer to 51-49, but the fact that Tester is even competitive is a victory in itself.