Mark Capra
| Accuracy Rating currently stands at ~
98
%.
While the economic picture is bleak for white men in the Rust Belt– never in history has there been so much opportunity for hot chicks:
Movies, TV, cable news, sports talk, podcasts, blogging, video blogging, social media celebrity, porn– the possibilities are endless.
Naturally, as the number of economic opportunities for women increased, the number of hot weather girls declined accordingly.
Yanet Garcia, widely regarded as Earth's hottest weather girl, is the last of a dying breed…
The Televisa Monterrey presenter found fame after men shared images of her on social media, comparing her curves to the reality star Kim Kardashian.

She then went into modelling and now, as well as presenting the weather forecast.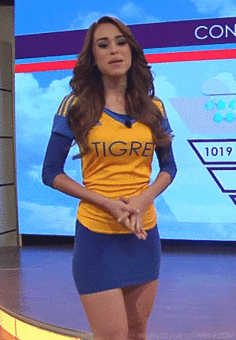 The competition…
Evelyn Taft – LA
There's just one problem. That was 3-5 years ago.
At this stage in her life cycle, she can no longer compete at a world-class level…
Gaby Lozoya – ??
A mom, so that's gross.
Second of all, not buying it…
I feel like she's manipulating angles and lighting far beyond that which you would expect from a naturally hot chick…
Colleen Coyle – Dallas
Colleen would be the most beautiful woman in most dentist offices or bakeries in America…
Francella Perez – LA
That's an extraordinarily hot MILF, but a world-class beauty…??
Cheryl Scott – Chicago
Scott has made a career off Zoe Deschanel Syndrome, whereby the penis tricks the brain into thinking she's hotter than she is because she appears gettable (which she's not)…
Julie Durda – Miami
That persona…
Fap check
Despite a less-than-optimal face, Yanet Garcia is Earth's hottest weather girl: 4 out of 4 bonerchios…
LTR material
When it comes to LTR, otherwise irrelevant female characteristics are taken into account, such as:
Intelligence.
Wit.
Humor.
Hobbies.
Cuteness of accent (if applicable).
Odds of fidelity (you can just tell).
In which case, Sian Welby is unquestionably the GOAT weather girl…
Granted, she hates Trump, based on this RT…
The officer that shot #AltonSterling …. but the media wont show u these pictures of him tho 😴🙄 pic.twitter.com/GnHEHPqsZG

— Sammy (@SammyTellem) July 7, 2016
On the other hand, here she is dressed like a slutty elf…
I plan to be a naughty Elf all day!! Don't miss me on @OKTVOfficial tonight dressed like this! pic.twitter.com/yVyU1i5q

— Sian Welby (@Sianwelby) December 14, 2011
You can tell she doesn't mind a little hair-pulling…